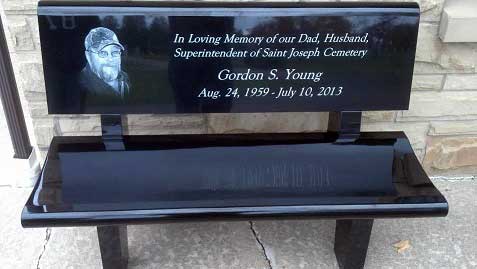 We offer granite monuments Made In America in a wide selection of color, bronze grave markers mounted on a granite base with a vase or without a vase and matching VA markers. See our office staff for free design help and more information.
We don't just order from stock pictures, we enjoy talking with our customers and finding out what they would like to have on their monuments to make it personal to them.
If you see a monument you like in a cemetery, on our web site, or in a book we will be glad to make one just like it, or change it a little and make it more personal.
Saint Joseph Cemetery is operated by the Saint Joseph Cemetery Association on behalf of the Catholic parishes in Warren County. While most appreciative and respectful of its Catholic heritage, the Cemetery invites persons of all faiths to use its grounds and mausoleums for the repose of loved ones.
As Catholics, we don't view death as an end, but as the beginning of eternal life. We leave our loved ones behind, but know that we'll be with them again. Pre-arranging our burial wishes is one more way to show our love for them, relieving them of this burden in their time of grief. It can also save the family a considerable amout of money, because of the effects of inflation.
The Cemetery is a Not for Profit Association, which means that any donations or memorials are tax deductible. Also, because it is an Association, the members, thru their elected Board Members, determine its Rules & Regulations.
Personal Choices
Do you want to pick out your own monument or marker?
Be able to plant flowers on your lot?
Be entombed in a Mausoleum instead of buried in the ground?
Donate a memorial bench or brick for a loved one?
Have a choice between a graveside or a chapel committal service?